The free Internet Keyword and multi-search engine.
AD FAQS
Contact us at Ads@superkeyword.net
We do not charge by CPM, Clicks Per Month, Clicks a day, etc. The web does work like your local paper and the yellow pages. How many viewers/ users can make a huge difference in getting your site noticed. Therefore we charge a flat monthly rate for ads on our Site's Featured Sections.
Payment Period
The placement fee is to be paid beginning of each month, regardless of the number of click-thrus or sales your banner ad generates.
Click Thrus Most banners on our site average 2000 click-thrus per day, but this is not guaranteed.
About our Ad Program
Ad rates on superkeyword.net are subject to change. This is our program, we do not believe CPM, is fair nor is it accurate. Ads that generate over 3000 hits will be pro-rated and cost increase.
3/ 5/ 14/ 30 Day Audio Ads 30, 45, 60 sec ads available, inserted based upon your demographics. Clips will be rotated on our jukebox and radio web casts. Ads must be pre-approved within 3 days before air time. Audio clips must be submitted through FTP only. If you do not know what this means, please contact us prior to placement, or ask your in-house webmaster. Our radio & jukebox station, currently has 50,000 unique listeners daily. Approximately 1.5 million per month.
Your Choices are:
3 day audio clip - 30 sec. audio clip: $50/ 45 sec. $65/ 60 sec. $80
5 day audio clip - 30 sec. audio clip: $75/ 45 sec. $80/ 60 sec. $100
7 day audio clip - 30 sec. audio clip: $100/ 45 sec. $120/ 60sec. $160
14 day audio clip - 30 sec. audio clip: $175/ 45 sec. $200/ 60 sec. $300
30 day audio clip - 30 sec. audio clip: $300/ 45 sec. $375/ 60 sec. $550
30 Day Ad Runs ON Banner Ads
We offer flat-fee advertising rates are on a month to month basis and you may cancel at any time. It will run, fairly without bias, just like the yellow pages, classifieds, pennysaver, la times, and even your local paper.
Three sizes are available
We offer three sizes and three rates on our home page and featured sections.


$300 per 30 day period with a maximum file size of 3000 bytes, thats just $10 per day.


$450 per 30 day period with a maximum file size of 5000 bytes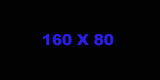 $800.00 per 30 day period with a maximum file size of 1.2 mega bytes
Banner Ad Insert Sections
Home Page - Main Search Engine, Multi-search page, shopping links on Yahoo, google, MSN, AOL and more.
Live Internet radio/ jukebox sections pop up radio, pop up jukebox, bottom fold, left corner of page, live radio
SuperKeyword Television/ Movies/ Videso Sponsorships - Coming Soon Streaming tv programs featured in full digital stereo. Great connection speeds with high quality picture and sound.
56k, 300K, 500K - small screen, medium, and big screen features. Click here to reserve your ad space now.
More Options
You can place your text listing in the following areas: Live Radio/ Information/ Entertainment/ Web Hosting/ Movie Section/ Shopping/. We Charge a flat monthly fee of $100.00, payable in advance of 30 days. All links can be found on our homepage: http://www.superkeyword.net
To place an ad with us...
If you wish to place an ad on the superkeyword.net home page or featured sections, please contact our ad manager at Sales@superkeyword.net. Attach the banner ad you wish to place (or if not prepared to size, a similar banner ad for us to review) and the page on your Site it will be directed to.
PG ADS ONLY
We reserve all rights to accept or deny the placement of your ad. The nature of your ad and product or service must be rated PG and must not be offensive to any entity. The decision to accept your ad is at our sole discretion.
Acceptance and placement schedule
If your ad is accepted, we will reply by email to let you know when to send payment via postal. Once your check clears, your ad will appear on our home page or featured sections for a 30 day period.
Cancel any time, no contract is required
You may cancel your ad at any time by simply not sending payment for renewal. There is no contract required however the ad will be deleted if payment for the next 30 day period is not received before the expiration of the previous 30 day period.
Potential Changes Within Pricing
We further reserve the right to increase the cost of advertising on superkeyword.net with 15 days prior notice. You will be given the option to continue at the new rate or cancel.
Tracking RESULTS
You will be able to track the results of your banner ad using your own Site's ISP software. If you are hosted with us, you can login to the members area and click on track hits.
Thank you and we look forward to hearing from you!
Return to the superkeyword.net Home Page