DVD - R/ + Media
Free Priority Mail Shipping on 100 Pack orders and above




Business/ Gamer Deluxe AMD XP 2600, 512 MB Ram, 60 gig Hard drive
$499

Official DVD Cases sold here. Used by major movie studios.
The M-Lock technology provides stress-free disc storage, maximum strength and damage resistance.
Each case holds one DVD or CD Disc.
Clear outer plastic cover for title insert.
Description: Single M-Lock DVD Case Hold Capacity: 1 disc Color: Clear /Dimension: 6 3/4" x 5 3/8" x 1/2"


FEATURED CDR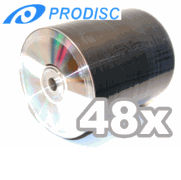 Great for audio/ video/ files, guaranteed performance. 700 MB of storage or 80 min of pure digital video & sound! 50 Pk $12.00




Sony 4X DVD - R Memorex Silver\\ 4X DVD-R Ritek 700 Mb CDR
Arita/ Ritek DVD + R
Prodisc brand CDR
3-1 DVD Duplicator
3-1 CD Duplicator
Ritek DVD + R